Established in August 2000, the Shirley Mae Breast Cancer Assistance Fund began with a gift from Atlantic City businessman and philanthropist, Roy Goldberg, who created the fund after experiencing the determination and inspiration of his mother, Shirley Mae Goldberg, a breast cancer survivor and The Gold Foundation has continued the mission going forward.
The goal of our organization is to benefit patients in Southeastern New Jersey* who have been diagnosed with breast cancer. Based on the keen awareness that these individuals suffer numerous unanticipated medical, emotional and financial burdens, the Shirley Mae Fund seeks to assist those who demonstrate a financial need by offering relief for the unanticipated financial burden of purchasing:
Prescribed breast cancer medications that exceed insurance coverage
Breast prostheses
Wigs
Other related items
It is our hope that, by easing the financial burden, we can lessen the hardship and stress to help facilitate a strong recovery for our friends and neighbors in need.
This financial assistance is absolutely FREE and without strings for qualified applicants*.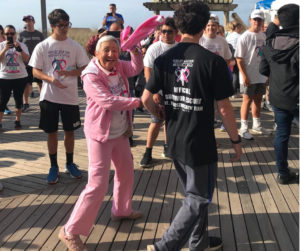 Our signature fundraiser is the annual Shirley Mae Run & Michael J. Walk held on the world-famous Atlantic City Boardwalk. This event is held on the Saturday before Mother's Day and attracts up to 2,500 participants.
The Shirley Mae Fund is run entirely by a volunteer advisory committee and all donations and money raised assist women and men of all ages who have been diagnosed with breast cancer.
The Shirley Mae Breast Cancer Assistance Fund is part of the Gold Foundation, a New Jersey nonprofit corporation which is a tax exempt organization, pursuant to Internal Revenue Service Code Section 501(c)3.
*In order to receive financial assistance from the Fund, clients must reside, work or be under the care of a physician in Atlantic or Cape May counties, New Jersey, lower Ocean or eastern Cumberland counties, New Jersey (within a 30 mile distance from the Atlantic City Airport).